Is it seriously May already?  Where is 2013 going???  Oh well, it's not like I'm going to complain about summer approaching!
This has been another wonderful week of meals.  I took pictures on Saturday (and a few other randoms throughout the week that you can see on Instagram: @veglindz), so you could get a little peek at all the good stuff cooking over here!
I started my day with one of my new favorite types of tea: kukicha or twig tea.
This is another one of those goodies that I learned about from studying macrobiotics.  It is made from the same tea plant that green tea is made of, but from the stems, rather than the leaves.  It results in a nice, mild tea, with 90% less caffeine than regular green tea.
Breakfast was pretty unusual for me, but I loved it!
I sauteed up some kale, sliced mushrooms, and garlic, and served it with half an avocado, and a hard-boiled organic egg.  I have been eating organic eggs a bit more frequently lately.  For some reason, legumes have been giving me a bit of a stomach ache sometimes lately, so I needed a replacement source of protein.  If there is one thing eggs are definitely good for it's protein.  Egg yolks do contain quite a bit of cholesterol, but I figure if I'm not eating many other animal products, then eating an egg every once in a while isn't going to hurt me.  Eggs are also a good source of vitamin B12 and selenium.  It's nice to know I'm getting at least part of my B12 from a natural source, and as an added bonus, selenium is a powerful cancer fighter, and will give you beautiful skin.
My lunch at work was an arugula salad with red onion, radish, and carrot.
After I took the picture, I topped it with pumpkin seeds and a tahini dressing I threw together.  Yum yum!
Dinner was a bowl of my red lentil and quinoa curry soup.
I ate this like three times this week.  It never gets old.  Make some now!
Usually I would eat something later in the evening, but I was too lazy/tired to move my booty off the couch to the kitchen Saturday night.  I did have a dark chocolate-covered caramel that Keenan brought home for me, but that was it for the day.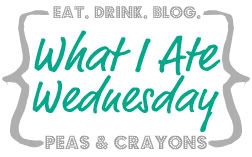 What awesome stuff did you munch on this week?
<3 Lindsay