Hi friends!
Another week of eating on a budget has gone quite well!
Monday morning, I started off my day with a green juice.
Green juice can get a bit expensive, since you're compacting so much produce into one glass.  To keep my juice budget down, I just drink them less frequently.  It would be nice to have a juice once or more a day, but having one a few times a week still has benefits.  Your body will love the extra nutrients when it gets them.
The rest of my breakfast was a bowl of muesli with banana and almond milk.
Basically, I just added some rolled oats, chia seeds, raw pumpkin seeds, raw sunflower seeds, raw almonds, and sliced banana to a bowl, covered it with almond milk, and drizzled some pure maple sugar over the top.  It's like an incredibly healthy bowl of cereal.  I love this on days that I don't feel like cooking breakfast cereal.
For lunch at work, I had a salad of arugula, radish, sprouted chickpeas, and agave dijon dressing.
Sprouting chickpeas allows them to be eaten raw, plus it boosts their protein levels and makes them easier to digest.
My dinner (also at work), was a bowl of lentil barley soup.
I used this recipe, and it was quite delicious.  Very tomato-y, and lots of flavor.  I really enjoyed it.
My final snack for the night were chips and salsa, that I shared with Keenan, while we watched tv.  (We started watching that new series Hemlock Grove on Netflix.  Anyone else checked it out yet?)
They may be slightly junky, but chips and salsa is one of my faves.  I mostly buy them for Keenan, but I definitely enjoy devouring them with him.  I also love making nachos out of them with some Daiya, beans, and veggies.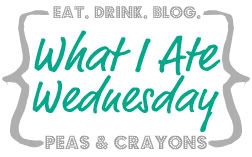 What have you been munching on this week?
<3 Lindsay