Being on a budget this past month has challenged me to make all of my own food, and to try my best to keep it cheap.  I've been doing my best to eat from what I already have on hard, although, I did make a trip to the store yesterday to stock up on fresh produce, and some essentials for our household, like bread and almond milk.
I always have oats and ground flax on hand to make a filling, nutritious breakfast.
I chopped up some dried apricot to throw in, as well.  The next day, I made oats, but chopped an apple into it instead, with cinnamon and nutmeg.
For lunch at work, I went with one of my favorites: miso soup.
This one had onion, wakame, carrot, daikon, shiitake mushrooms, and baby bok choy.  If you haven't yet tried miso as a great source of probiotics, then you are missing out.
My other meal at work was udon noodles with broccoli, edamame, onions, garlic, and paprika.
This was actually my first time trying these noodles, and I really enjoyed them.  They're large and chewy, and can be added to just about anything.
That night, Keenan brought me some veggie taco from the restaurant where he works, and I completely forgot to grab a picture.  Imagine small soft corn tortillas, grilled veggies, including some onions, peppers, and squash.   Oh, so good.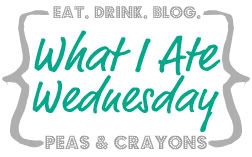 What's the best thing you've eaten this week?
<3 Lindsay