Well, it's that fun time of the week again where you get a peek inside a day of my eats, thanks to the phenomenon that is What I Ate Wednesday!   To check out meals from hundreds of other bloggers, click on the link below!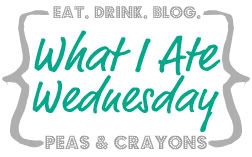 You've probably come to expect this, but I am keeping up with my daily
hot water
with
lemon
habit!
This morning I sipped while blog reading/writing, thus the laptop.
Breakfast was a nice bowl of Kashi GoLean Crunch cereal with a banana and almond milk.
Definitely a nice, filling breakfast.  Sometimes I really love the simplicity of pouring a bowl of cereal.
On my way to work I grabbed a grande soy chai from Starbucks.
I know that Lent is long gone, but I've still been mostly trying to avoid Starbucks because of the cost.  Lucky for me, my wonderful boyfriend gave me some money a few days ago to treat myself, so I don't have to feel the guilt.
Lunch at work was one of my leftover Millet and Black Bean Stuffed Peppers!
Still absolutely delicious, although I couldn't get a good picture to save my life.  Please don't judge.
Oh yeah, and I accompanied the pepper with a basket of fries.  I couldn't help myself.
On my next break, I devoured my salad.
Arugula, tomato, and strawberries with balsamic and olive oil.  So, so, so good!!  Fresh strawberries in a salad make it about a thousand times better, I have decided.
My final meal of the day was a huge bowl of pesto penne with bread that Keenan brought home from work, however, I didn't get around to snapping any pics.  I've you've seen any of my previous WIAW posts, you've probably seen a very similar bowl of pasta.
That's about it for the day.  I hope you have a great one!
<3 Lindsay